The Psychic Energy of Musical Silence and the Soundtrack to a Wordless Comic

My friends! I hope you had a very happy June. [And, I'm sorry if you end up receiving this message twice. I was having some tech trouble getting it out on Friday night.]
Brian often speaks fondly of the days when he used to shop at the (now unfortunately out of business) all-heavy-metal record store Metal Haven. I always ask him to tell me about how one of their sections was labeled "Brutal Shit." The phrase absolutely tickles me. And it's also the perfect way to describe the incredible King Crimson show that we just saw this past Wednesday night at the Chicago Theatre.

We're fortunate to have seen this lineup once before, back in September 2014 here in Chicago at the Vic, but the intervening years (and one additional member) have been kind to them. I'm not sure there's any band that's their equal. The show was riveting, inspiring, mind-blowing. I wish I could find and link the tweet from 2014 that some New York music blogger wrote about seeing Crimson live on that last U.S. tour, which said something to the effect of, "imagine a group of Victorian barbers playing the most punishing music you've ever heard." It's pretty much the best summation of what the band is currently doing, condensed to less than 140 characters, and remains truer than ever.

They are SO loud, playing with a sustained, labyrinthine complexity that will then give way, at the most unexpected moments, to pastoral English sweetness. Honestly, the only proper response to it all is laughter. I laughed constantly throughout the night. You know the kind--that sort of astonished, delighted, joyous reaction to a thing you're experiencing when it borders on the miraculous.

This iteration of the group consists of three drummers who play front and center on stage, backed up by a sax/flute player, Tony Levin on bass, one dedicated keyboard player, guitarist/primary vocalist Jakko Jakszyk, and Robert Fripp also on guitar. They're all operating at the top of their respective games and they cohere as a unit like the highest level experimental jazz ensemble or chamber orchestra you could imagine. (I kept shrieking in Brian's ear throughout the night, only partially joking, "what if this means I'll never be happy listening to a band with only one drummer ever again??")

I couldn't wait to play my old Musical Chakras game with these guys once they really locked in during the first set. When I psychically check out what chakra a musician is operating from, there are some predictable ways they tend to show up (drummers in the lower, earthier chakras; singers and horn players in the fifth/throat chakra; etc.). But with these guys, of course there were surprises. I'm used to seeing bass players operating in the first chakra (grounding the band) or second chakra (gettin' sexy), but Levin was firmly in his sixth chakra, operating from vision. Perhaps I should have expected it considering that he's also an excellent photographer, but it was still a lovely discovery, revealing a new nuance to why he's remained such an in-demand player for literally decades. And Fripp, who I've been straight-up obsessed with for the past few years, thanks both to his playing and to the incredible wisdom that he shares in his online diary and through his Guitar Craft courses, was in his fifth chakra. Which, sure, is something I've seen in many talented guitarists. But the thing that really knocked me out with him was the way I could actually sense the presence of silence in his playing. Like, his genius is honed to such a degree that he's actually managing to play the totality of any given note on the scale, which includes both the noise you're hearing as well as its absence. This is major, crazypants, Zen master magic. What a gift to be in the room to witness, absorb, and learn from it.

Table of contents:
What's new on the blog

Elsewhere

"Wichita Lineman": The 2017 Covers Series

Psychic readings & healings
---
What's new on the blog

This month on Queen of Peaches, I give you my ultimate insider's guide to Rogers Park! And by "ultimate" I mean "highly biased, nostalgically informed, and personally skewed."

(Warning--I have been informed by former inhabitants of this neighborhood who now reside elsewhere that reading this post may cause you to deeply miss Chicago.)

Click here to read the rest!

---
Elsewhere
Save the date! On July 29, Brian and I will be providing musical embellishment for Gene Kannenberg Jr's "reading" of his abstract/asemic graphic novella Qodèxx. What is an abstract/asemic graphic novella, you ask? Feast your eyes (and make a purchase) here. Qodèxx has been praised as a masterpiece by none other than Emil Ferris, author of the hugely popular and successful graphic novel My Favorite Thing Is Monsters, and has also recently been featured on Nebraska Public Radio. The happening (yes, we're really calling it a happening) to officially celebrate its release will take place at Creative Coworking Evanston (922 Davis St.) on Saturday, July 29. Doors open at 6, we'll start playing around 6:30, and a portion of proceeds from sales of the book that the night will be donated to the Ontulili Literacy Project. This is one of the cooler things I've had the pleasure of being part of recently, and I have a feeling this night is going to be very, very special--please do join us if you'll be in town!

A few quick thoughts about how much Bob Dylan loves music, after seeing him play live for the second time on June 18.

Sherman Alexie's new book You Don't Have to Say You Love Me shattered my heart in 10,000 different ways, at 10,000 different moments. It's the best thing I've read in ages.
---
One of the sort of implicit concerns I've been curious about examining with this covers series is the question of identity. The identity of a song, the identity of a band or singer. How do they interact? Does one dominate the other? When and how does the hallmark of an identity become a blessing, or a curse, to any given performance? To whom does it matter, and why?

The Scud Mountain Boys' cover of "Wichita Lineman" is a case where the identity of the song itself wins out, but in a way that just seems genuinely humble without being overly reverent.

Click here to listen to the song on YouTube.

I think it would be easy to listen to a group of guys playing ultra low-key like this and gripe that they're not really "doing" anything. Especially given that, like, who even knows who the Scud Mountain Boys are? Isn't the goal of a band to announce, as loudly and specifically as possible, "here I am! Here is how I am different from all the other bands!"? (Ahem, the Scuds are referenced most often these days in discussions of Joe Pernice's career as a singer and songwriter, which is a polite way of saying that unless you were frequenting the club circuit in Northampton, Massachusetts, in the early to mid '90s, there's little chance you've probably heard of or cared about them. And yes, I myself only know about them via being a fan of The Pernice Brothers' album Overcome By Happiness.) I mean, I'm the person who was just raving about the "labyrinthine complexity" of King Crimson, so, like, I totally admit to having a tendency to privilege flash and pizzazz, to crave the unmistakable.

But really, there's no reason for this particular version of this particular song to be anything fancy. The Scuds were smart enough to realize here that they could best serve the piece not by trying to reinvent it, but just by presenting it, which takes a certain level of confidence and maturity that not every musician or band has. It's a risk, but, to my ears, it paid off.

---

I've donated a psychic reading to one of my favorite writers, Martha Grover, for the fundraiser she's putting together for this year's Portland Zine Symposium. She'll be raffling it off on July 6. I've read at big, raucous birthday parties and have given readings as perks for folks who've donated to online medical fundraisers--I love bringing a little bit of psychic energy into spaces where you wouldn't necessarily expect it. Get in touch if you know of an upcoming event that might dig what I do.

---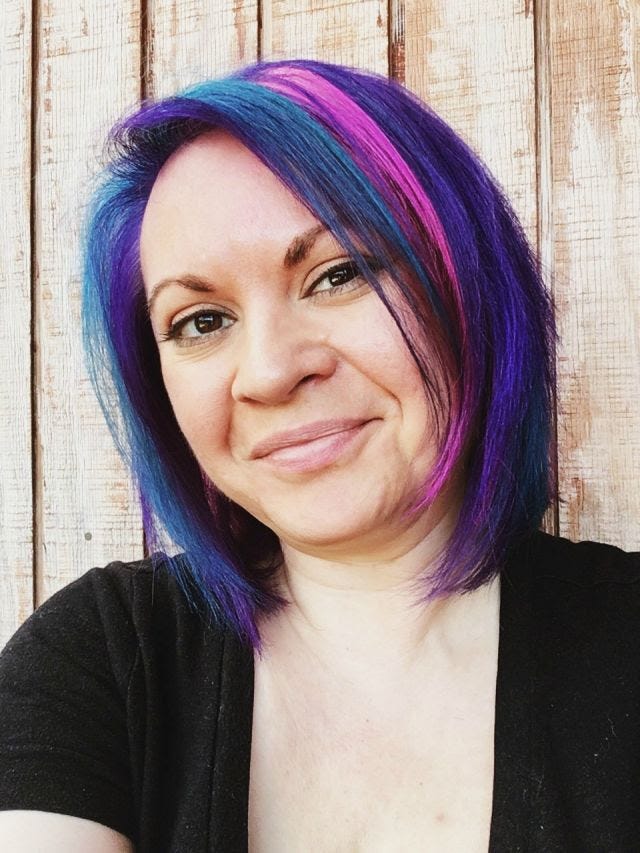 Oh, right, and I have unicorn hair again. Fun times!!

With love,