The Felus Cremins Band Live Home Studio Performance
Hello, friends:

Happy Labor Day weekend!

When The Felus Cremins Band released our new album American Romantic Music back in early February, we assumed we would have plenty of chances to play that batch of songs live over the course of this year. That, uh, has not been the case, for obvious reasons. But we still wanted to play them for an audience! So we decided to host a track-by-track livestreamed concert on my Facebook page on Friday, September 4.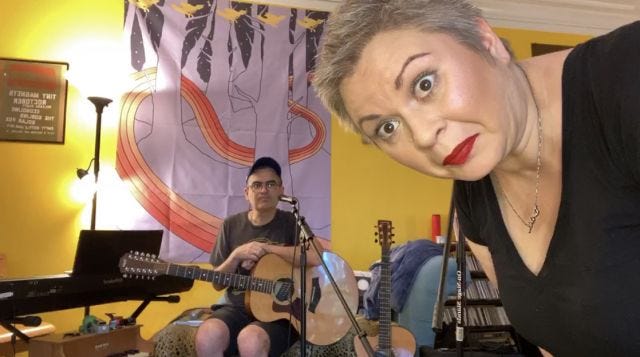 I remain deeply ambivalent about Facebook in general and have been pulling my energy out of there as much as possible. But the fact remains that it's still usually the easiest way to communicate directly with a broad cross-section of friends and acquaintances, so that's why we chose to host the show on that platform.

But of course we also wanted to be able to share the music with those of y'all who may not be active anywhere on social media, so the full recording is now available to watch at your convenience on YouTube. Individual songs are time-stamped in the description under the video to help you click around if you're short on time and want to skip the banter and speed straight through to the music.

Click here to watch the show!

(Is this somehow the 2020s equivalent of watching the Jerry Lewis Telethon over Labor Day weekend? And if so, does this make The Felus Cremins Band some sort of bizarro-world Tony Orlando and Dawn??)

We're planning to do another one of these livestream shows closer to Halloween, and we're taking requests! So let us know if there are any songs (spooky or otherwise) that you've been eager to hear us transform into our signature sad-bastard style.

Tie a yellow ribbon 'round the ole oak tree,