Happy New Year! Looking Back at 2016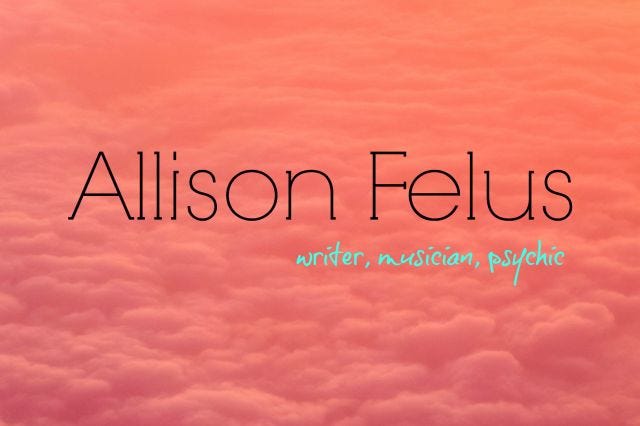 Happy holidays, friends!
This officially makes a year that I've been coming into your inbox on a monthly basis to give you the scoop on what I've been writing and what I've been thinking and what I've been doing. I thank you with my whole heart for being interested enough in what I've got going on to continue following along with my adventures. Information overload is a true and real thing, and our inboxes are all so overburdened, so please know that I do not take for granted for one moment the fact that you're open to receiving one more bit of recurring digital communication from me. I'm gonna keep this short here at the top 'cause I've got a lot of ground to cover.

Table of contents:
What's new on the blog

My best of 2016 mix

2016 in review

"I'm Waiting for the Man": The Covers Series

Information about psychic readings and healings
---
What's new on the blog
This month on Queen of Peaches, I reflect on my favorite film moments of the year, like this bit from the Werner Herzog documentary Lo and Behold: Reveries of the Connected World:
But the moment I find myself replaying in my mind again and again is when notorious hacker Kevin Mitnick is concluding his story about worming his way into a major communications company, basically just by making a series of exceedingly polite telephone calls. Herzog asks him something to the effect of, "why did you do this? For malicious reasons?" And Mitnick instantly shouts back, "No! For sport!" with a passionate purity that totally knocked me out. That, to me, is on a par with Philippe Petit walking between the towers of the World Trade Center on a high wire, just for the useless beauty of it, just because he, alone, could.
---
My best of 2016 mix

As I've written about before, I've been making mixes of my favorite new music at the end of every year since 2004. This year's edition, titled I Don't Want Any of This Information, is available for streaming online now! Click the image above, or here, to stream it on 8tracks. Click here to view the track list.

If you'd like a physical copy of this mix burned onto a CD, just reply to this e-mail and I'll get one sent out to you right away. (Uh, and make sure I also have your current mailing address.)

If you'd like to reminisce and get nostalgic, or just find some old music that may be new to you, click on through to my 8tracks profile to scroll through the past 12 years of archived mixes. But since 8tracks is now limiting the total number of minutes per week that you can listen to music there without paying a membership fee, I'm also in the process of getting all the old mixes uploaded to Mixcloud. There's a lot that I'm liking about Mixcloud so far: that they dictate that the mixes have to be uploaded in their entirety as one long track (so I can make sure everything is in the right order!), that they include a space for the names of the songs and artists in a pull-down track list graphic; and that they claim to be paying royalties to the musicians whose songs are uploaded to the site.
---
2016 in review
As I wrote last year, I sit behind a desk eight hours a day during the week and read stuff online constantly, yet even I have trouble keeping up with all the blog posts and articles and other links I've heard good things about and am interested in delving into. So, I recognize that it's entirely possible that you may have missed out on some of the stuff that I created in 2016. Here's a round-up of the most significant stuff I wrote and did this year.
January
February
March
April
May
June
July
August
September
October
November
December
And even though it's not my work, it's still been a big part of my life this year and I figured many of you would be curious about it as well: Brian's book Captain Marvel and the Art of Nostalgia is finally available! Click here for ordering information and other details.

---

As a reminder, here's how this whole idea began:
I mentioned to Brian [in late 2015] that he should start a Tumblr strictly dedicated to recordings of people covering "I'm Waiting for the Man," and as soon as it came out of my mouth, I was like, damn, I'm totally stealing my own idea and using it for my newsletter instead.
So, it's been a bit of an off-the-cuff lark, but a fun one at that. I've put all the videos I sent out this year in a master playlist on YouTube. (The only video missing is The Districts, which is only available on Vimeo, and I couldn't get Beck's Record Club to isolate just that one song, so you'll have to fast forward to 3:15 to get to "I'm Waiting for the Man" specifically.)

I wish I could say I'd planned this idea in advance, but it only came to me a few weeks ago. Of course it felt supremely obvious as soon as I thought of it. But, for the final cover version of "I'm Waiting for the Man" this year, I present...me! Click here to listen to Brian and me covering the song in our living room.

---
Between the beginning of the new year in January and my birthday in mid-February, I tend to go a little nuts with energy readings and healings. Tarot cards, clairvoyant readings, channeled communication, reiki, crystals, bodywork--I want it all. I want all the advice, all the good feelings, all the information I can possibly get as I look forward to a new calendar year and a new year of my own.

If you find yourself in a similar mode right now, taking stock in various ways, you're of course welcome to book a psychic reading or healing with me. But if one's just not enough, or if you're looking for a different kind of modality from the ones I work in, I'd be happy to recommend some of my own trusted favorites. About half this list is weighted to folks located in and near Chicago, and the rest are available to work their magic online from around the country (or world).

For bodywork:
Jana Robison Cheffings for massage
Vita Lerman or Arlette Greer for shiatsu
Nancy Cole for reflexology

For tarot:
Angie Yingst
Jessa Crispin
Camelia Elias

For psychic readings:
Erin the Psychic Witch
William Pacholski
Myan Binder

Etc!
Bernadette Doran for Holographic Memory Resolution
Veronique Frede or Jessica Sanchez for crystal healing
Alex Altomonte for mediumship readings

---
With so many blessings for the year to come,