Cacti, The Divine Comedy, An Upcoming Concert, and More

Friends! Hello!

We found ourselves in Connecticut at the beginning of the month, for Brian to give a talk about his book at the Waterbury campus of the University of Connecticut (which you can listen to by clicking here if it strikes your fancy). As we were pulling into our hotel to check in, we saw a sandwich board across the street advertising that the 34th Annual Connecticut Cactus and Succulent Society Show & Sale would be held that weekend at the Naugatuck Valley Community College. "We gotta go to that cactus show!" I laughed. It's just the kind of weird and charming, spontaneous adventure I couldn't resist. I assumed that we'd take a nice leisurely stroll around on a weekend morning, but I definitely underestimated the enthusiasm that Waterbury's residents apparently have for cacti and succulents. The place was packed! We got there right after it opened and we could barely push ourselves through the crush of attendees.



I snapped a few photos and we found a few treasures to bring home (including a thank-you gift for our friend and neighbor who cat-sat for Rosie while we were away). Rather than try to somehow transport them back to Chicago on the plane, Brian's mom sent them to us in the mail later that week, cleverly packed into an empty butter tub.

Table of contents:
What's new on the blog

Elsewhere

"Wichita Lineman": The 2017 Covers Series

Crystal healing
---
What's new on the blog
OK, well, if Jen Turner's band Furslide wasn't an obscure enough topic for you last month, here's a new 1,800+ word blog post on one of my favorite bands, The Divine Comedy. They're not terribly well known here in the States (although they are legendary among a small group of beloved friends who are reading this message). Nevertheless I go long on the glories of In May, a bonus disk released last year with their most recent album Foreverland:
"The musical reference points in In May's compositions range from familiar Hannon touchstones like Scott Walker and Michael Nyman to English musical theater composers like Leslie Bricusse and Lionel Bart but also, crucially, The Divine Comedy itself. Freed to shop his own back catalog, presumably by the assumption that the theatrical audience for In May wouldn't necessarily cross over to his own fanbase, he's able to lift familiar little idiosyncratic intervals and motifs that are most recognizable from the Divine Comedy's heyday. There's Promenade's urgent, sawing string parts, A Short Album About Love's down-tempo grandeur, and Liberation's deep sense of place and space."
---
Elsewhere

1. I have a new site design! Although I consider Queen of Peaches my primary online home right now, I've also owned allisonfelus.com for several years, just so that there would be something associated with my real name on the rare occasions when people directly Google me. (Hey, it happens.)

It's a whole long boring story, but when I found out that the service that was originally hosting my web address would be shutting down in May, I figured it was time to spend some real money to have a real designer help me make the shift to a real nice new site (rather than trying to cobble something together on my own). I'd been stalking SquareSpice's work online for a little while, after noticing that a handful of young, hip authors that I follow on social media all had personal sites designed by them. I had the great pleasure of working with Alexandra Fiber there, and the whole process was swift, painless, and well worth the money. I totally love the carousel of background images, that display font, and the little swirly icon that shows up in the browser tab and would certainly recommend Alexandra and SquareSpice to anyone looking for some snappy web design. (I don't, like, get a kickback or anything like that for saying so. I really mean it!)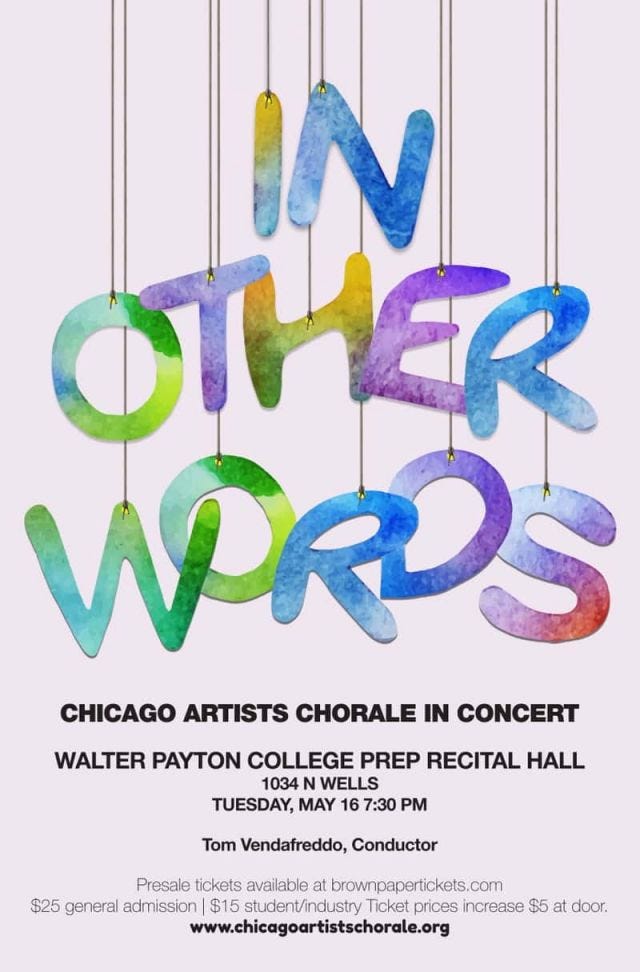 2. The next Chicago Artists Chorale concert that I'll be singing in, "In Other Words," is coming up soon! It'll be held Tuesday, May 16 at 7:30 at the Walter Payton College Prep recital hall here in Chicago at 1034 N. Wells. Tickets are $25 in advance and are available now by clicking here. The unifying theme of the show will be that all the music, with a few exceptions, is wordless (so, lots of skeedly-bops and loo-loo-loos). I learn so much every session from conductor Tom Vendafreddo and the rest of the absurdly talented people in the group. It would be lovely to share this night music with you!

---

A couple years ago, Brian and I were going through a box of my dad's old 45s, and we came across Jose Feliciano's absolutely incredible version of "Light My Fire." My dad, evidently a pretty big fan, had also been known to play Feliciano's album Steppin' Out around the house and in the car in the early '90s, so I have lots of fond memories of his music. So, I was naturally delighted to come across his instrumental cover of "Wichita Lineman" (even though I wish he'd sung on it as well--I would have loved to hear his soaring tenor hit that "still on the liiiiiine...!").

Click here to listen to the song on YouTube.

Having grown up playing piano, I think I'll always consider the guitar somewhat magical, and Feliciano is nothing short of a wizard. His dexterity and fluidity with the instrument makes it seem like he can pull more music out of those six strings than should be physically possible, especially given that it's all acoustic, without the benefit of amps or effects pedals or anything like that. I love the gentle, flamenco-style introduction, but it's his run getting into the solo around 1:36 that really makes my heart leap out of my chest. Casually rendered mastery at its smoothest.

---

It's been three years since I studied to become a Certified Crystal Healer, and I sometimes forget the simplicity and beauty of using crystals for healing in my own everyday life. Like so many other things, I start to think too hard about it--I assume I have to make a big, fabulous crystal grid full of geometrically precise designs or that I should be experimenting with elaborate body layouts or whatever. But lately I've just been plopping an aquamarine or herkimer diamond into a water bottle, charging it up with reiki energy, and then just drinking that throughout the day. It's an especially lovely way for me to sneak a little healing into my life while I'm at work, when my brain is whirring a mile a minute and when metaphysical concerns are usually the last thing on my mind. If there's an area of your life where you're working too hard, or thinking too much, or where you could use a little healing boost, I'd love to chat with you about it.

---

Watching the world bursting into bloom,